Choose Your Own Wines, Spirits and Champagnes, then all you have to do is relax and enjoy yourselves.
We set up the bar for you and supply trained and smart staff. We have glass or plastic glasses for you to choose from.
We apply to the Magistrates Court for the licence for your event, so it's one less thing for you to worry about.
We provide everything that's needed and pack up and leave at the end of the night without any fuss, leaving you to enjoy yourself.
Your guests can pay for their drinks or you can pick up the tab, whichever you prefer.
We can also help to organise any other aspect of your party including entertainment, catering and photography. Please ask about anything else you require.
We have lots of contacts!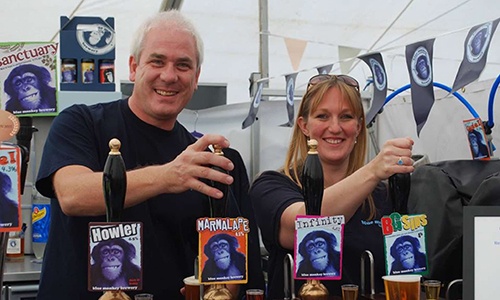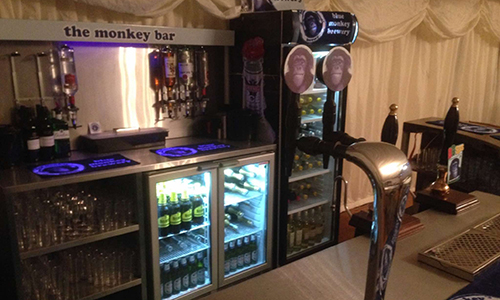 "Wanted to say a big thank you from myself and my wife for the monkey bar you provided for our wedding. The staff were friendly and very professional and the choice of beers were great! Everything from the setup, service and tidy up was perfect and your staff are a true credit to your company. Would definitely recommend yourselves to anybody needing this kind of setup. Once again a big thank you to the blue monkey bar."
"A great big 'Thank You' to the monkey bar. I was very worried about the event, but after the meeting with your team the pain eased. On the day of the event you guy's were brilliant and the feed back from our clients was fantastic. Once again thanks for everything.
"Without the Monkey Bar our party would not have been the same, not only did they provide an exceptional bar (and wonderful beer of course!), they helped booking the DJ, setting up the marquee, organising the food and were happy to help with anything else, what an outstanding service they provide! I would undoubtedly recommend the Monkey Bar to anybody planning an event. Somebody who was at our party has already used the Monkey bar at a party of his own – testament to the quality of the beer and the brilliance and zeal of the staff. Thank you so much guys!"